As part of UEFA's on-going commitment to promote widespread Cardiopulmonary Resuscitation (CPR) training, players at the Nations League and Under-21 EURO finals have completed courses that can help save lives.
Alongside the European Resuscitation Council (ERC), UEFA is aiming to train more than 12,000 people in CPR, bringing medical expertise to players, coaches, referees, staff and supporters so that anyone is able to act quickly in the event of sudden cardiac arrest and increase the chances of survival by up to three times.
Building on the success of the first CPR training session held with teams at the Women's Finalissima earlier this year, UEFA and the ERC continued the programme at the Nations League finals in the Netherlands.
All four finalist teams of Spain, Italy, Netherlands, and Croatia were given the invaluable opportunity to acquire CPR techniques under the guidance of experts, equipping them with the essential skills to administer emergency CPR.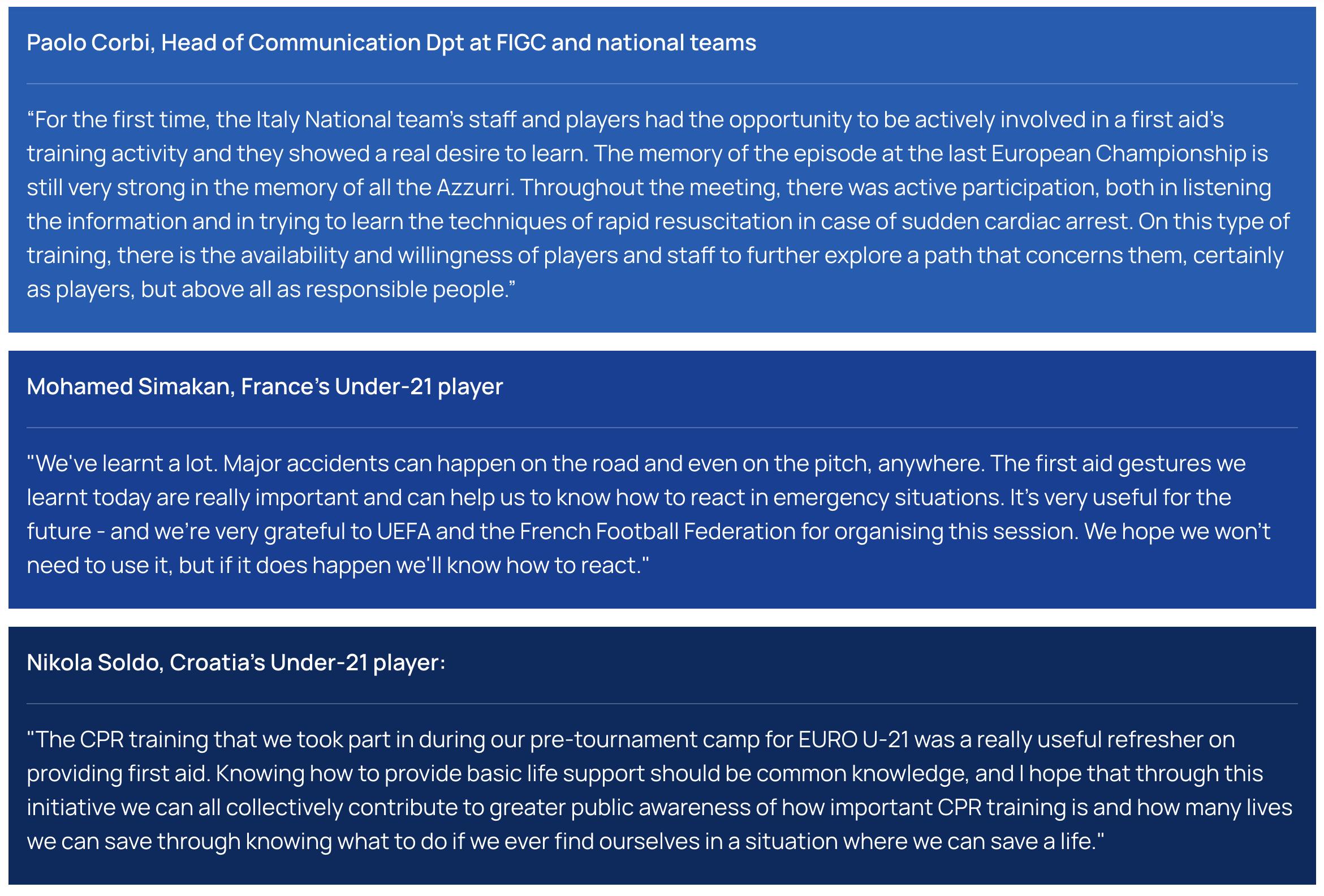 The initiative was initially introduced at the UEFA Medical Symposium in February, where UEFA and the ERC announced a joint mission to train over 12,000 individuals in CPR, which could help to save up to 100,000 lives in Europe alone each year.
Teams participating in the Under-21 EURO in Georgia and Romania this summer have also begun CPR training as part of their tournament preparation. The initiative will be extended to teams competing in various youth and futsal tournaments throughout the year. Additionally, UEFA staff, members of European football's 55 national associations, and volunteers working at UEFA EURO 2024 in Germany will also receive CPR training.
More on the Initiative: www.savingalife.com