Under-19 players and young reporters learn how to recognise sudden cardiac arrest and perform first-aid gestures.
UEFA's partnership with the European Resuscitation Council continues this month at the Under-19 EURO, where players and trainee journalists are receiving Cardiopulmonary resuscitation (CPR) training.
The powerful initiative is part of a drive to train over 12,000 people across Europe in the vital life-saving procedure.
In line with this target, the ongoing youth championship in Malta continues the precedent set by other UEFA competitions, including the Women's Finalissima, UEFA Nations League, U21 EURO and UEFA Youth League, which have taken proactive steps to ensure that elite players, as well as young athletes, receive comprehensive CPR training and learn how to save lives.


Young reporters spreading the word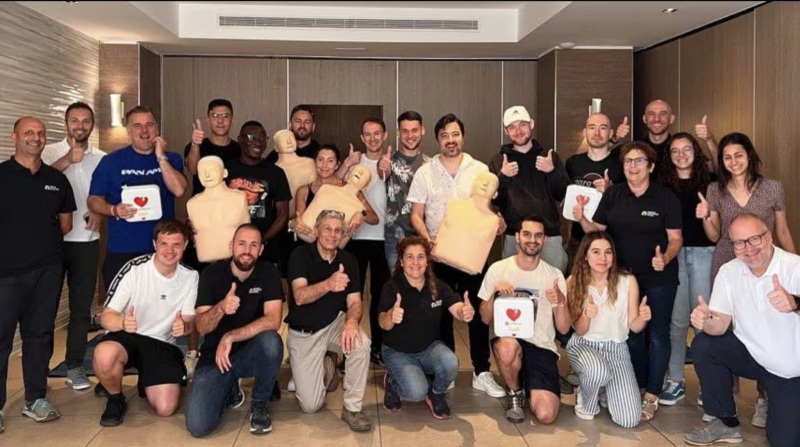 (Photo: AIPS young reporters attended a CPR training session at the U19 EURO in Malta this month.UEFA)

In addition to players, a delegation of AIPS young reporters from 12 nations together with their mentors had the opportunity to participate in medical training and education during the Under-19 EURO. The group of fledgling journalists are in Malta this month to gain an invaluable insight into what it means to cover a major football tournament– thanks to the UEFA-sponsored International Sports Press Association (AIPS) Young Reporters programme.
Including medical training in their schedule underscores the media's crucial role in promoting public health and safety and sends a powerful message about the critical role of immediate response in saving lives.
Anyone can do it. Everyone should know it. CPR has the power to save lives, including your own and those of your loved ones. Don't wait. Learn the steps.

More on the Initiative: www.savingalife.com